Employers and Partnerships
Information for Employers and Education Providers
We have a range of opportunities to access our students, if you would like to attend any of the events listed below, please contact our Careers Lead:
Mr Chris Worstencroft – Chris.Worstencroft@macclesfieldacademy.org
Listed below outlines various opportunities through our programme delivered during PSHE, however in addition to this there are the following opportunities:
Assemblies or virtual teams talks to year groups
Collapsed Mornings
PDT Talks 1:40 – 2:10pm
Subject talks through curriculum areas
National Apprenticeship Week & National Careers Week
Partnerships
Macclesfield Pledge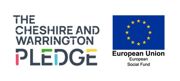 The Pledge Partnership puts employers at the heart of informing and inspiring young people about the career and progression opportunities locally and supporting them to know what skills and qualities employers are looking for.
Higher Horizons
We are part of the Uni Connect Programme, funded by the Government to deliver free and impartial higher education outreach to schools and colleges across Staffordshire, Shropshire and Cheshire.
Mploy Solutions

Bespoke programmes supported by employers, preparing young people for the world of work. Careers, Enterprise and Employability activities providing students with an opportunity to develop the skills many employers say are lacking in today's labour market such as communication, team working, problem solving and negotiation.