Transition
Welcome to our school!
We're so looking forward to getting to know you as you begin your journey with us here at The Macclesfield Academy.
If you have any queries about the transition process, please contact us at
transition@macclesfieldacademy.org or call us on
Our student guide is filled with information to help you prepare for starting with us in September:
The Macclesfield Academy Student Guide
You can also keep up to date with daily life at The Macclesfield Academy by following us on social media:
Facebook: The Macclesfield Academy
Instagram: @themacclesfieldacademy
Twitter: @TheMaccAcademy
Key Dates
| Date | Action |
| --- | --- |
| Friday 1st March 2024 | Year 7 offers sent out by Cheshire East LA |
| Friday 15th March 2024 | Deadline for accepting offer |
| TBA | Transition Day |
| TBA | Summer Activity Day |
| September 2024 | First Day at The Macclesfield Academy |
Getting involved
Here at The Macclesfield Academy we are incredibly lucky to have a pro-active PTA, known affectionately as 'The Friends of The Macclesfield Academy' (FOTMA).
The Friends of The Macclesfield Academy have recently been focussing their efforts on organising events to raise funds for a peaceful outdoor seating area in the East Yard, for students to enjoy.
---
FOTMA Car Boot Sale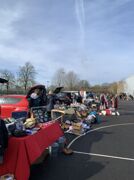 The first FOTMA Car Boot Sale took place on Sunday 12th March and turned out to be a fantastic event, with local traders and car boot sellers lining the South Yard. The car boot sale raised over £600 and following some wonderful feedback, will now run as a monthly event!
Read all about it here!
Confirmed dates for FOTMA Car Boot sale:
Sunday 16th April 2023
Sunday 21st May 2023
Sunday 18th June 2023
Sunday 16th July 2023
---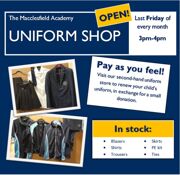 Second Hand Uniform Shop
FOTMA members have also started running a second hand uniform shop, which is open on the final Friday of every month (3pm - 4pm), allowing parents to 'pay as they feel' when replenishing their child's school uniform.
---
The Friends of The Macclesfield Academy are always looking to welcome new members, so if you would like to get involved from September 2023, please email:
paul.blaylock@macclesfieldacademy.org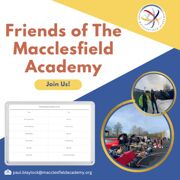 You can also visit our FOTMA webpage for more information.
School Uniform
You can find all information regarding correct school uniform on our Uniform webpage.
Our Academy uniform consists of:
Dark blue Academy blazer
Academy tie
White shirt (worn with top button fastened)
Black v neck jumper
Official Academy skirt
Plain black trousers
School shorts (allowed in the summer term)
Plain black traditional style shoes
White/plain black socks
Our sole stockist for Academy uniform is Classworx in Macclesfield.
You can find our Classworx uniform guide here:
You can also visit our Second Hand uniform shop, which can be found by the main reception on the final Friday of every month (3pm - 4pm).