International Women's Day at The Macclesfield Academy!
Back

8th Mar 2023
The theme of this year's International Women's Day is 'Embrace Equity".
How is 'equity' different to 'equality'?
While Equality means each individual or group of people is given the same resources or opportunities.
Equity recognises that each person has different circumstances, and allocates the exact resources and opportunities needed to reach an equal outcome.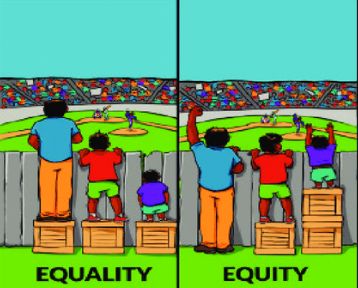 The aim of the International Women's Day 2023 #EmbraceEquity campaign theme is to get the world talking about Why equal opportunities are no longer enough.
Here at The Macclesfield Academy, staff have shared the women they see as inspirational and who have pushed through barriers to achieve great things!
Margaret Jordan
Nominated by Mrs Ainsworth
"Margaret was Head of Science and Assistant Head teacher when I started at the school. She modelled the role perfectly and was a huge inspiration."
---
The England Women's Football Team
Nominated by Mrs Frank-Thomas
"The England Women's Football team winning the Euros was extremely inspirational for me! Last summer the women's team proved to Britain that you don't have to be male to be amazing at football!"
---
Yvonne Baker OBE
Nominated by Mr Galvin
"Yvonne is a STEM learning CEO and someone who has pushed on Science CPD for teachers and secured funding to allow teachers to learn how to teach Science even better."
---
Carol Jarvis
Nominated by Mr Blaylock
Carol is a multi-award-winning trombonist, keyboard player, arranger, orchestrator and voiceover artist. She has toured, recorded and worked extensively with the likes of Sting, Queen, Seal, Rod Stewart, Amy Winehouse, Bon Jovi, Ellie Goulding. At 26, Carol was diagnosed with stage 2a Hodgkin's Lymphoma and has since undergone many different treatments. Due to her inspiring story, Carol has now given talks all across the globe, from Boston to Singapore and Brazil to Croatia, about facing fear head-on, setting new statistics and beating the odds.
---
Sandi Toksvig
Nominated by Miss Hart
"A hugely intelligent woman and very funny too. She writes books for children and adults, columns for newspapers, and plays. She presents TV shows and documentaries, as well as setting up the Women's Equality Party to bring issues around gender equality to the forefront of British politics. She speaks eloquently about issues affecting women and lesbians too. She came out in 1994 and has spoken a great deal about her family and experiences as a gay woman. Recently she spoke out about the Church of England's approach to marriage quality for same-sex couples and about the impact of anti-LGBTQ+ ideologies on mental health."
---
Esther Duflo
Nominated by Ms Smithers
"Esther Duflo is a woman who has inspired me!She is the second woman to ever win a Nobel prize in economics for using maths to help fight poverty. She's also had a significant impact in the field of economics itself by using new methods to find causal effects of policies."
---
Hannah Fry
Nominated by Mrs Williams
"She's a maths communicator and so tries to get people interested in maths. STEM subjects are a very male dominated field, so it's good to have a female showing that women can do it too!"
---
Rachel Butlin
Nominated by Mrs Underhill
"Rachel Butlin is a jeweller who works in Staffordshire. She is an inspiration for me as she takes on different creative challenges, has a seemingly constant source of new ideas and has high-level skills in her making. She won a Young Artist award and set up her own business after leaving university. I have been in one of her workshops and her ability to nurture the skills of others was fantastic. She is a young woman making a living in the arts (which can't always be an easy industry) but is really positive and says 'I feel so lucky to do what I absolutely love every day'."
---
5 Powerful Women in Literature
Mrs Kyaligonza couldn't just choose one! So she has shared the following article: