Year 5 Spanish Lesson a Hit!
Back

7th Feb 2023
Here at The Macclesfield Academy, we often talk about the importance of learning journeys, encouraging our students to reflect on where they start in Year 7 and look forward to the end of their secondary school career in Year 11, and beyond.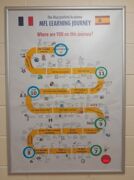 However, we know that the learning journeys of our students begin well before they step foot through our doors, and that is why our teaching staff love to grasp opportunities to engage primary pupils with their subject - especially our MFL Department !
---
This morning, Head of Modern Foreign Languages, Mrs Frank-Thomas, was thrilled to welcome Year 5 students from Park Royal Primary School to deliver a brilliantly interactive Spanish lesson. Today's session focussed on recognising and recalling numbers 1-20 in Spanish, before moving onto using these to be able to say their age.
Excitement buzzed as students competed against each other in a quick fire round of 'match the number', a test of their speed in recognising numbers in Spanish and linking these to the written and numerical form. Enthusiastic Park Royal students did a fantastic job of cheering each other on and helping out their peers when needed! The competitive streak didn't end there though, as 'Lotto' (a Spanish version of Bingo) was next up, with pupils racing against each other to be the first to tick off their chosen six numbers as they were called out in Spanish.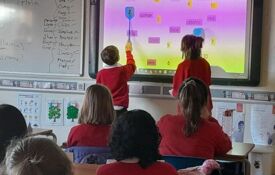 ---
As always, it was a pleasure to have primary pupils visit us and for our MFL department to share their love of languages!
¡Muy Bien!